This is a well-known company that deals with waste clearances in Uxbridge (UB8). We are able to provide quality services by approaching each job in a professional way. We manage to complete each job very quickly and very efficiently so both the customers are happy and the rubbish gets taken care properly. We do versatile jobs and provide very appropriate services each time we are called.
The wider Royal London Borough of Hillingdon is also included within our area of services providing. We are able to help the people form this area as well and are more than happy to include some off hours services if needs be. You can contact us 24 h a day.
Services we provide
Household junk disposal: Our services extend to household junk disposal in Uxbridge. All of the domestic areas within this part of London are subject to our services. We can carry away daily loads of waste and also manage bulk disposals as well. Our customers are also very interested in garage clearances and furniture collecting, so you can also hire us to this type of a job for you.
Garden waste clearance: There is also the option of hiring us to do the garden waste clearance in Uxbridge. We can take care of all the yard trimmings, dead flowers, scattered tree parts and even take away your leave piles. As professionals we do not shy away from any job and the garden waste disposal is one of our favorite ones and also one of the most sought for ones. Get your yard sorted with the help of our professional firm.
Commercial rubbish clearance: Our services is also capable of providing great commercial rubbish clearances in Uxbridge. The versatility which this type of rubbish collection works demands is something too strenuous on a person, and also one has to distinguish which method is best to use. Our company has the knowledge and the required tools to enable a perfect commercial rubbish management job.
Office waste removal: Our services can also enable the people form the area to have their office waste removals in Uxbridge done. This includes the various disposal jobs that are needed around an office or a work setting. The majority of businesses suffer from large piles of paper that keeps being produced every day. This type of rubbish and anything other can be easily disposed of in seconds if you contact us to do it.
Building rubbish removal: One of the more popular rubbish removal jobs in Uxbridge is certainly building rubbish removal. It is very hard to do on one's own, particularly if there is concrete involved. It is much better to contact us and leave all the information about the job so we can come prepared with an appropriate man crew and deal with the situation immediately. We provide an eco-friendly way of disposals preserving the environment in the process.
Why use our Uxbridge rubbish removal services?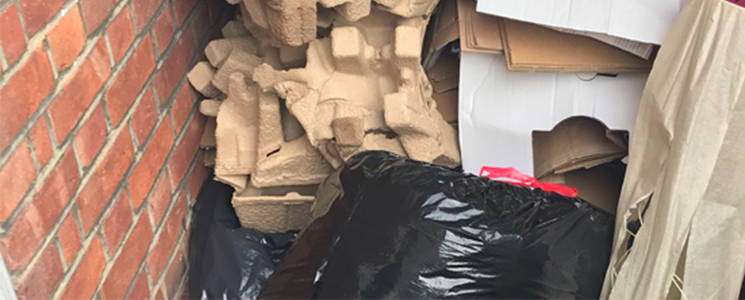 This is one of the most professional and cheapest rubbish removal services in the entire London area. We are very experienced and have been around for quite some time, providing all kinds of rubbish disposal services.
We always carefully assess the situation before starting the process of cleaning, and when we decide that a proper way of dealing with the problem has been found we immediately jump to completing our job. This is what enables us to always complete any waste disposal situation in a proficient way. Additionally, very modern and contemporary techniques are something that we use in every clearance.
There are methods that one can deliver correctly only though training and we aim to provide them to our customers. You also need to know that all of this is done at a very appropriate pricing that everyone can afford.
Testimonials
"I really enjoyed this kind of service, it was very nice to get somebody to this work for you." – Jeremy
"Fabulous work and a very reasonable price, will certainly look forward to hire them again" -Margaret McCarty
"Now my house is in tip-top shape, I really enjoyed having the guys around and getting them to dispose of all my rubbish. Very good work and I appreciate the effort." -Alex B.
Book our professional services
The only thing left for you to do now is to contact us and book your rubbish clearance services. It is easy to do and can be done in seconds. Upon contact, you can ask our operators about some additional information you are not certain with and get the correct feedback immediately.
Our site is also available to you at any time and enables you to contact us immediately and swiftly. We try to respond to each received e-mail as fast as possible and respond to our clients immediately. If we have enough information to go on, we shall also send to you the correct pricing as well.