If you are searching for a company to hire for rubbish removal and waste clearance services in Tower Hamlets (E and EC postcode districts), you came to the right place. This company is proficient in providing the cleaning, loading and disposal of waste materials in the borough of Tower Hamlets of London, and the wider East London area respectively. Providing the clients with a prime service is what has made this firm one of the most popular in the city. It does not hurt as well, that they provide really low service prices to their customers.
Contacting, booking and hiring the services is very easy. Contact us via telephone 020 3744 0154 or e-mail. Leave your information and also everything which is involved within the waste clearance job that you need. You will receive a rough assessment of the price that will be charged over the phone, but our teams will be able to give you more accurate numbers upon arrival when they assess the situation they are dealing with.
Garden Waste Removal in Tower Hamlets
Enabling us to do your garden clearance and waste removal in Tower Hamlets will save you energy, time and money.
Our services are very cheap and affordable and can be booked by anyone who is in need of any type of garden waste removal or clearance.
Gathering all the hedge trimmings or disposing of leave piles can be quite tiresome, and besides wasting you energy it will take up your time as well. We can do that for you in an efficient way and dispose of any garbage materials in a friendly manner, not polluting the environment. If you enjoy your garden work, take a rest after finishing it and call us to collect the leftover rubbish after the renewal, we will be happy to oblige your wishes.
Commercial Waste Disposal in Tower Hamlets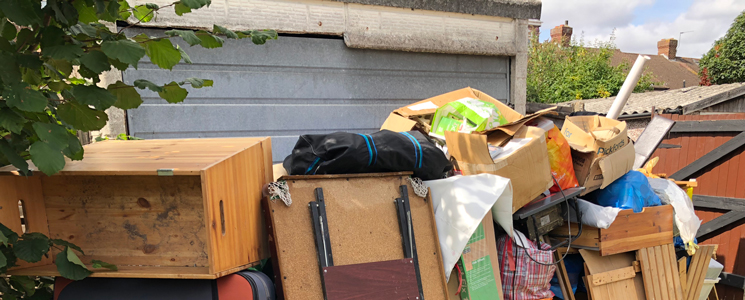 Get your commercial waste collections and disposal work in Tower Hamlets handled by professionals by placing a call to our service. This is a company which provides many types of cleaning. One of the services provided is the disposal and management of commercial rubbish found in your area. Whether you are dealing with disposable documents, used paper or plasterboard, or even heavier garbage collections such as office furniture or filing cabinets, our teams are trained to take care of it all.
Incorporating ethical and green methods of disposal, our crews will handle your commercial area with care by getting rid of the excess rubbish found inside it. Dealing with any type of garbage loads is not a problem for our crews as they have been trained to handle each problem in a professional manner which may befall on them in the field.
Household Waste in Tower Hamlets
Providing a stellar household waste collection and removal service in Tower Hamlets is a part of our deal. This means that we ensure that the housings we visit are cleaned and that the waste is removed in a professional way. We achieve this by training our staff annually, so they are prepared to tackle any type of a household waste removal situation they encounter on the field, and by using modern methods, which means that all of the rubbish cleaned from residential areas is later on recycled and disposed in a friendly manner.
Additionally offered are garage clearances and furniture disposal. Any type of excess furniture, like sofas or book shelves, will be taken away and cleared from your housing. This will result in a much more beautiful unclogged atmosphere of your homes. Old mattresses and rugs can be cleared as well, and a bulk collection service is offered which may enable you to achieve a discount as well.
Office Rubbish Removal in Tower Hamlets
Contact us for any office clearance and rubbish removal job experienced in the Tower Hamlets borough. We offer the services of taking care of any office space or area that is experiencing waste problems. No matter where the location of your office may be or what your business includes, our job is to clear of any junk materials that you need us to dispose. This includes excess paper, leftover foods, old documents, old filing cabinets and even failed equipment.
If the loads are bigger and heavier and you are in need of a bulk office material removal, explain the situation to us and we will send a truck with enough manpower to gather all of the unneeded equipment. This may include the removal of some office furniture, desks or chairs for instance, but electronic materials as well, old computers and accessories. The discarding and disposing of this type of office rubbish is done in a safe way so as not to harm the environment.
Building Waste Removal in Tower Hamlets
What our teams can also do for you is building waste removal in Tower Hamlets. If you are managing a renewal of your home or any type of a working or residential area, it is bound that excess materials will be left behind.
Concrete, excess tiles and even pallets are among of the basic type of waste which is lying around a construction site or a renovation area. Our company offers a safe and easy way to clear off that excess building garbage and dispose of it in a safe manner.
Minimizing the impact of pollution on the environment is our prime concern and we tend to do each building rubbish material job in a green way. We can also organize recycling waste materials services and get rid of the junk you do not need in that way. Additionally, the prices are very favorable, making our company one of the cheapest in East London.
Prices of Waste Clearance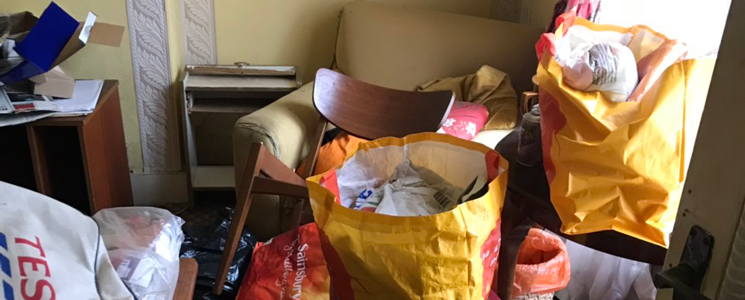 The prices of our waste disposal services within the area of Tower Hamlets start at ₤65. All of the needed additional information are available at our company and you can get them by contacting us. Our operators will also enable you to book the services in any periods you need them and explain to you the rates. On hand price evaluation is also available.
We Operate in the Following Districts:
Bethnal Green
Blackwall
Waste Clearance in Bow, E3
Bromley-by-Bow
Cambridge Heath
Rubbish Removals in Canary Wharf, E14
Coldharbour
Cubitt Town
Docklands
East Smithfield
Fish Island
Globe Town
Hackney Wick
Isle of Dogs
Leamouth
Limehouse
Mile End
Millwall
Old Ford
Poplar
Ratcliff
St George in the East
Shadwell
Spitalfields
Stepney
Wapping
Whitechapel