If you are in need of rubbish removal and waste collection services in Redbridge (which covers the E, IG and RM postcode districts) and the surrounding East London area, call our company to help you with your problem. This is a prominent company which has a vast experience of disposing any type of waste materials which you are in need of clearing. We incorporate different modern methods to help us with the situations at hand and also use various types of vehicles depending on the severity of the job.
Give us a call by phone (020 3744 0154) or send us an e-mail. It can also help if you send a picture of the area which needs rubbish clearance. Besides being able to give you a pricing over the phone, our teams are also trained to give on hand pricing evaluations. In turn the prices we give are among the lowest in the area.
Garden Clearance and Waste Removal in Redbridge
Enabling garden clearance and waste removal in Redbridge is one of the top jobs we offer.
Besides being very popular, these types of collection jobs are very cheap.
We offer a way for you to clear off any excess debris from your yard or any garden junk which results from renovating or arranging it.


Disposing of any materials, like any kinds of trimmings or branches, are included in the prime service we offer. Out teams are trained professionals who will do your garbage collection job in a record breaking time and will do it in way which protects the environment.
Commercial Waste Collection and Disposal in Redbridge
The commercial waste collection and its disposal in Redbridge is attainable at a very low price. This company specializes in various types of collection and clearance jobs, among which is the cleaning of commercial areas. Our teams are sent with the appropriate equipment and are also available to make price assessments on their own as well. They can rid you of any type of a commercial rubbish collection which may be bothering you.
Even larger and heavier scrap metal collections in the borough of Redbridge can be taken cared with ease. You can even get a discount offer on some bulk collection jobs if you have them for us. Call the number and give an accurate description of the problem and we shall do our best to assess the situation and price accurately and will certainly get the job done.
Household Waste Collection and Removal in Redbridge
Call us to dispose of any waste collection and removals in Redbridge. This is one of the most popular and most exclusive offers we give to our clients. In turn it is one of the cheapest and easiest to do. We accept jobs in any part of the Redbridge borough and wider East London area. Our teams are equally effective in cleaning any type of a household area. Given that there are many residential areas in this part of London, it is very hard to handle them all.
We have a number of teams which can handle the clearance of household waste in any aforementioned area. Additionally, our crews use various vehicles to help them handle the situations they encounter and provide great results. They are also trained to make a price assessment on hand and give you an accurate and reasonable price on the spot. This quickens the entire waste removal job and helps you get a clean household in moments and helps us the finish the job appropriately and quickly. More so, we can also handle bulk removals, garage clearance and various furniture disposals that you are in need for.
Office Clearance and Rubbish Removal in Redbridge
A great offer provided by our company is to deal with office clearances and rubbish removals in Redbridge. Various businesses are in need of office clearances. Giving you a chance to tidy up your work and office area will most certainly enhance the working atmosphere of your business setting. Also the services of the office rubbish removal are very affordable. You can call us to make an assessment on the spot or give us a description which we will use to tell you the price immediately on call.
What we can do for your office is clear all the stacks of excess paper and documents which are gathered there daily. There is an option of gathering rid of all your file cabinets and old furniture that you are not using any more. We tend to keep things as green as possible, so some special types of clearances, like the collection and disposal of electronic equipment is done in very environmentally safe way. So give us all of your copier machines, old tonners and failed computer screens and they will all be disposed in a friendly manner.
Building Waste Removal in Redbridge
What is one of the hardest types of clearances is building waste removals in Redbridge. This is what many people are having problems with, particularly people who are not experienced or are not used to doing remodeling jobs or renewing parts of their house. We can greatly help your situation as we can be hired for an affordable price and provide a stellar building rubbish removal in turn. There is an option of hiring us for the gathering jobs at a building construction site, where there is a lot of work to be done.
Our crews will assess the situation and get to the matter at hand professionally. There is no type of job that we will turn our backs to. Whether you have excess concrete for us to remove or leftover or broken pallets, it will be carried away and thrown away in a safe and environmentally friendly manner. Our firm incorporates green methods which are beneficial for the environment and do not cause any pollution.
Waste Clearance Prices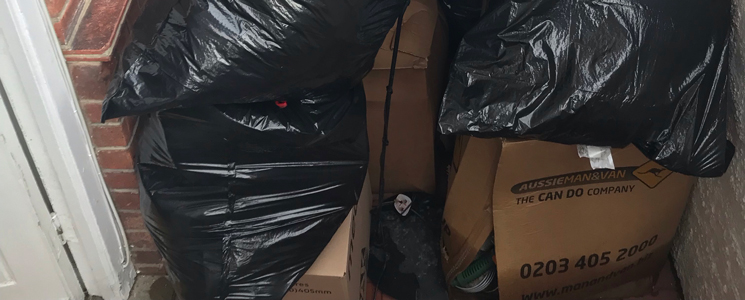 Contact us with any type of a waste removal job experienced in the Redbridge borough. We are available at all work hours for contact and you can do so via phone or e-mail. Our prices start at ₤65, but we can also do on hand assessments and price evaluations.
We Can Help You in the Following Districts:
Aldborough Hatch
Aldersbrook
Barkingside
Chadwell
Clayhall
Cranbrook
Fairlop
Fullwell Cross
Gants Hill
Goodmayes
Hainault
Ilford
Little Heath
Loxford
Monkhams
Newbury Park
Roding
Seven Kings
Snaresbrook
South Woodford
Valentines
Wanstead
Woodford